The Gastroenterology Research Laboratory of the Department of Physiology is a modern and well-equipped laboratory, located at the Faculty of Medicine, University of Kelaniya. This laboratory offers gastric function assessment for both adults and children for diagnosis and follow ups. The tests are performed and results are interpreted by a specialist physiologist.
Gastric function tests, though important in the diagnosis, management, and follow-up of patients with gastro intestinal diseases and patients at risk for the development of gastro intestinal impairment, is not routinely used due to lack of availability, expertise and cost.
This laboratory was established with the aim of fulfilling three main tasks:
providing quality diagnostic services
improving teaching
enhancing research in the field of gastro intestinal physiology
The laboratory envisions:
improving teaching related to gastro intestinal physiology
working towards increasing research output of the faculty related to gastro intestinal physiology
enhancing research opportunities and quality of research related to gastro intestinal physiology
establishing collaborations with other faculties and institutions with similar interests
This unit is a self-funded unit for its maintenance and sustenance, thereby reducing the burden on the state.
The laboratory is currently involved in:
01Service function
This is the only laboratory in the country with facilities to investigate gastric motility and intestinal transit using non invasive techniques. This laboratory provides services to patients referred from government and private medical institutions.
02Research
Research carried out in this laboratory is mainly translational and focuses on improving the quality of life of patients with gastrointestinal disorders. Current research activities of the laboratory are mainly related to gastrointestinal motor functions in health and disease, gastro-paresis and functional gastrointestinal disorders.
03Postgraduate training
One of the objectives of the laboratory is to provide facilities for postgraduate students reading for MPhils, MDs and PhDs in gastrointestinal physiology.
The laboratory charges a fee for the investigations provided. The maintenance and expansion of the laboratory is carried out with the funds generated by the laboratory, research grants and donations.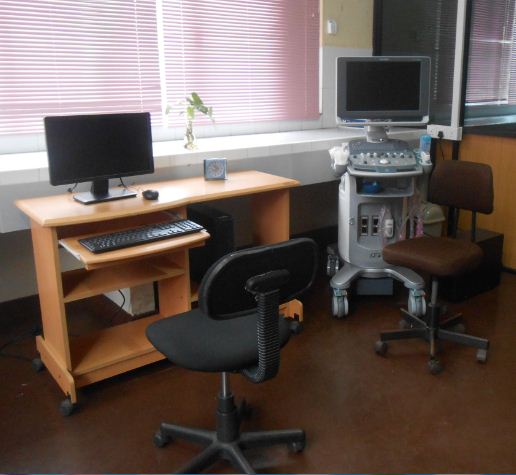 Investigations performed in the laboratory are:
| | |
| --- | --- |
| | Gastric emptying ultrasound  |
| | Whole gut transit time (only issue tablets, x rays are taken from relevant hospitals) |
COORDINATOR
TECHNICAL OFFICER
Dr. Niranga Devanarayana
MBBS(Ruhuna), Doctor of Medicine(Kelaniya)
Cadre Chair and Professor
Ms. N.D.I.J. Ariyawansa
Technical Officer Gr.II
01The investigations performed in the laboratory are:
Gastric emptying ultrasound
Whole gut transit time
02Ongoing research activities are:
Sri Lankan children with abdominal pain Predominant Functional gastrointestinal disorders : their autonomic functions , gastric motility and the therapeutic value of prokinetic Drug - Domperidone.
Validation of a standard Method of gastric emptying by real - time ulrasonography using a semi - solid meal in healthy subjects.
Gastric motility and autonomic functions in trained athletes : a comparison with healthy, age and sex matched controls
01 Who can undergo tests?
 Gastric empting ultrasound test
02 How to prepare the patient?
 For gastric emptying ultrasound test
Fasting for solid and liquid for 6 hours
Prevent from using drugs that affect gastric function for 24 hours. (eg:- Motilium, Domperidone, Erythromycin, Mosopride)
It will take around 20 minute for the test. Please bring your breakfast to take after the test.
Please bring your past records
03 Test results
A detailed report will be issued along with the machine generated output.
04 How can I book an appointment?
Gastric emptying ultrasound tests are conducted on Monday from 8.30am to 12.00 noon.
Please ensure that you book an appointment in advance and prepare the patients before you send them for the test.
Capsules for whole gut transit time are issued from Monday to Friday from 8.30am to 3.00pm
You may book an appointment by contacting either
Mrs. Janaki on 0112961125 (between 9.00am to 3.00 pm on weekdays)
Fax +94 0112958337 When you are reserving an appointment,
please inform the patients for gastric emptying ultrasound test that a fee of Rs. 500.00 from government hospital patients and Rs. 2000.00 from privet sector patients will be charged for each test to cover the cost of consumables.
the patients for whole gut transit time test has to pay Rs. 2500.00 for the capsule.
ONGOING RESEARCH ACTIVITIES
| | |
| --- | --- |
|   | Sri Lankan children with abdominal pain Predominant Functional gastrointestinal disorders: their autonomic functions, gastric motility and the therapeutic value of prokinetic Drug - Domperidone. |
|   | Validation of a standard Method of gastric emptying by real - time ulrasonography using a semi - solid meal in healthy subjects. |
|   | Gastric motility and autonomic functions in trained athletes : a comparison with healthy, age and sex matched controls. |
Address
:
Gastroenterology Research Laboratory
Department of Physiology
Faculty of Medicine
University of Kelaniya
Thalagolla Road,
Ragama,
Sri Lanka 11010
Tests are performed at the :-
Gastroenterology Research Laboratory,
1st floor,
Department of Physiology (New Pre-Clinical Building) 
Telephone

:
+94 11 4012395
Fax  
:
+94 11 2958337